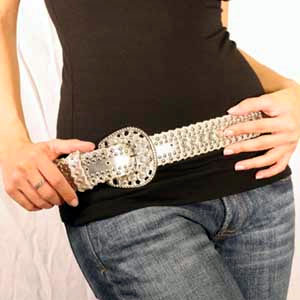 Add casual elegance in your style by picking up the latest belts fashion for your wardrobe. Get ready for the flattering and glamorous fashion belts to accessorize your outfit in a stylish way.
Pakistani fashion industry is all set to throw a welcome-back party for fashion belts this season. Fashionistas all over the world truly understand the importance of style that fashion belts add to one's appearance. Get set to stock up the fashion belts this season to make your style statement. The latest belts fashion is of all widths, textures and colors which you can easily pull over on any outfit.
The fashion belts do not only look chic and stylish, but also define your waistline in an elegant way.  Keeping in view the latest fashion trends of loose flowing frocks and long A-line shirts, fashion belts have been introduced back in the Pakistani fashion to charm your outfits. The addition of fashion belts is a perfect choice to make to adorn your loose frocks and long shirts, highlighting your waistline with classy look.
The latest belts fashion in Pakistan is supporting both thin and wide belts. However, you have to make appropriate choice in fashion belts according to your shape and physique. For nicely shaped or thin girls, thin fashion belts are more suitable pick. The most preferable thin fashion belts should be 1.75 to 2 inches at most, which should be tightened to 2-3 notches to get a nice tight feel.  When it comes to thin fashion belts, those with 1-3 cm are painful to wear as they cut into the flesh.
You should make selection according to what you are wearing them with.  Moreover, girls who are heavier from lower body can follow latest belts fashion by picking up wide belts for them, which highlight their waist and divert attention from their bottom.
The latest belts fashion in Pakistan can surely bring a new life to classic outfit. As waists are right back in fashion, so are fashion belts. With the smart selection from a huge variety of latest belts fashion, you can surely pick one to complement your elegant outfit, skirts or jeans.
Among the luxurious latest belts fashion, the python belts are an exquisite choice to make. The fashion belts in Pakistan with fine leather and beautifully crafted buckle are not only stylish and eye-catching, but also quite affordable. Python fashion belts are the hottest among the latest belts fashion and are available in a wide range of vivid colors with different styles of decorative buckles and loops.