The rumour of Kader Khan's death is doing rounds on social media yet again but his son Sarfaraz has completely rubbished these rumours and has said that his father and veteran actor Kader Khan is hospitalized in Canada.
This is what he told PTI, "It is all a lie. It (is) just a rumour. My father is in the hospital". As far as the actor's health is concerned, he has been transferred from regular ventilator to BiPAP ventilator due to breathing issues.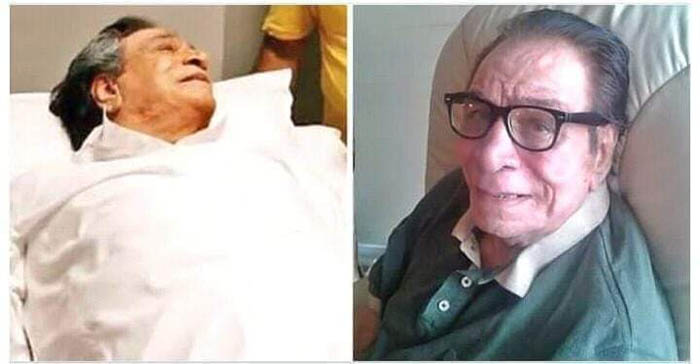 Times Of India, in one of its reports, mentioned that the actor is suffering from Progressive Supranuclear Palsy, a degenerative illness that leads to dementia, difficulty in walking and loss of balance. While the actor is fighting the illness, many celebs believed these death rumours and took to social media as well regarding the same.
Here's one of the posts that celebrities shared.
#kadarkhan is no more . Sinister villain, prolific dialogue writer and actor with one of the best comic timing. RIP #Kadarkhan sahab . pic.twitter.com/D6PSOA6D8M

— Pashmina khan (@Pashmina916) December 30, 2018
We lost a beautiful soul today. What a legendary actor he was. Thank you so much for making our childhood awesome Sir. You'll definitely be missed. We won't see another Kadar Khan in Bollywood again. RIP.#kadarkhan pic.twitter.com/kUGVk57EjC

— Sudhanshu #17 (@beingsudhanshu_) December 30, 2018
So many beautiful memories with Naani regarding his movies..part of my childhood! #KadarKhan ? This is such a sad news. Allah magfirat farmaye.. Ameen

— Ayesha-عائیشہ ?? (@Ayesha_ZaYain2) December 30, 2018
Name the person who died recently was a big comedian in 90's movies ? ~ #kadarkhan

What is the full form of RIP ?

~ Rest In Peace#ViswasamTrailer pic.twitter.com/tQmAblPvYK — Deep Chand (@deepchand77) December 30, 2018
RIP sir ?? #KadarKhan #rip #bollywood #cinema #movies #90smovies pic.twitter.com/RJ5qXtl921

— Vishal Pandey ?? (@VishalK03006226) December 30, 2018
Very sad to know about demise of legendary ,extremely talented and gifted actor (comedian , villain etc) dialogue- script writer, director & overall one of the greatest entertainers of all times #kadarkhan ji His roles will always remain close to my heart . RIP pic.twitter.com/8iie6qiNpL

— Athri,runnisaidpur (@athribazaar) December 31, 2018