The cricketing world just got a whole lot more exciting. The T-10 Cricket League, a blazingly fast new format was launched today that will change the face of the sport as we know it. Announced just a short while ago by the President and partner of league, Mr. Salman Iqbal along with Shaji Ul Mulk the Chairman of the league.
This fast paced new blend of cricket will feature nearly one hundred of the finest athletes from various parts of the world, some of the most prominent names in the league are Shahid Afridi from Pakistan, Kumar Sangakkara from Sri Lanka, Shakib Al Hasan from Bangladesh, Virender Sehwag from India and Eoin Morgan from England and many more.
The T-10 Cricket League which is approved by both the ICC and Emirates Cricket Board, will feature 6 teams competing in 90 minute long matches of 10 exhilarating overs. The competing teams in the league are: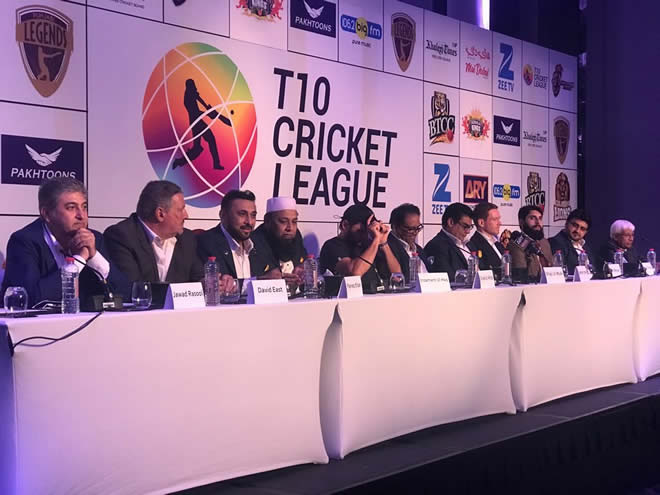 – Maratha Arabians
Team Owners: Sohail Khan, Parvez Khan and Ali Tumbi
Team Celebs: Kriti Sanon and Sara Loren.
–  Pakhtoons
Team Owners: Habib and Tajeeud din Khan
Team Celebs: Zarine Khan and Fahad Mustafa
Brand Ambassadors and Captain: Shahid Afridi
– Kerala Kings
Team Owners: Hussain Adam Ali and Dr.Shafi Ul Mulk
Team Celebs: Iniya and Meera Nandan
Brand ambassadors: Eoin Morgan and Raika Khan
– Bangla Tigers
Team Owners: Rizwan Sajan, Anis Sajan, Neelesh Bhatnagar
Team Celeb:  Waqar Younis
– Punjabi Legends
Team Owners: Inzimam Ul Haq and Intizar Ul Haq
Accompanied by: Jonita Doda, Kashish and Misbah Ul Haq
– Colombo Lions
Sri Lanka board represented by: Asanka Gurusingha (Manager Sri lankan Cricket Board),    
Kashif Shahzad, Vijay Vyas, Mohomed Morani
Accompanied By: Mehwish Hayat and Humayun Saeed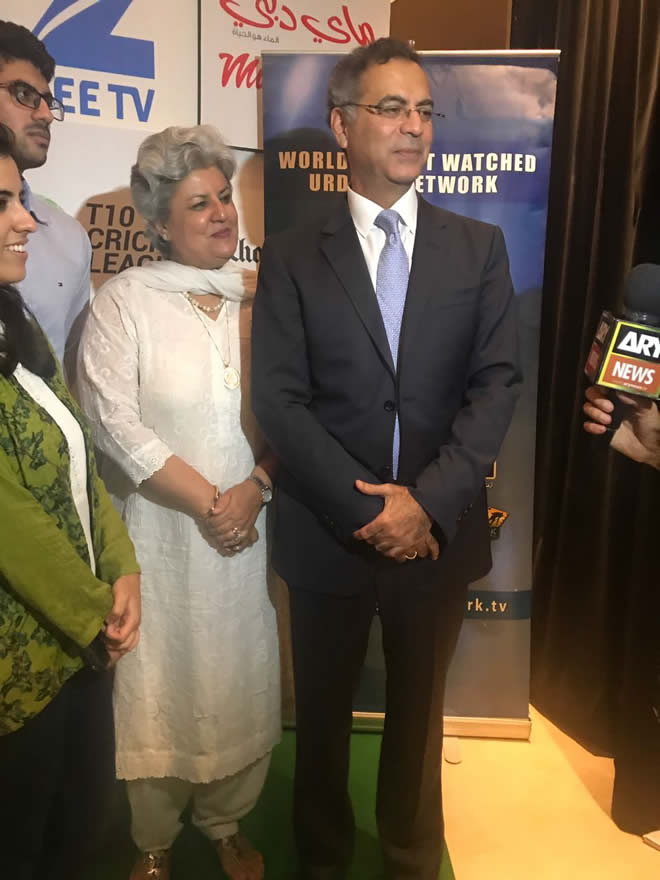 Commencing from the 21st of Dec with the finale on the 24th, the matches will be broadcasted LIVE from Sharjah Cricket Stadium with ARY Digital Network as the official Media Partner.