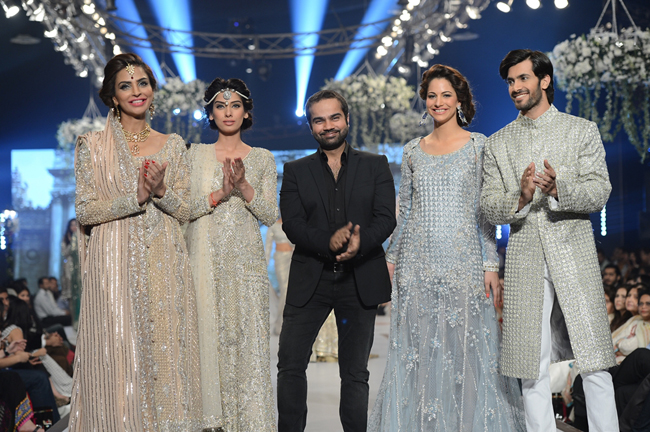 After the exciting and flawless execution of Day 1 of PBCW 2014, Day 2 started with shimmering celebrities and socialites on the beautifully decorated Red Carpet, with lots of lounges by different sponsors. The ramp had a mesmerizing appeal with its flower chandeliers and constantly changing images on the digital backdrop. Show 1 of Day 2 kicked off with the elegant presentation of Zaheer Abbas. His collection "Jashn-e-janaan" was a beautiful display of a wedding affair. Making his debutin 2010, Zaheer Abbas has truly transformed his brand into an eponymous label by bestowing a new meaning to the way Pakistani fashion is perceived around the world.
Zaheer Abbas' collection was followed by Somal Halepoto's "Ronak" line. In her debut collection at PBCW 2014, Somal halepoto stayed true to her style and element. The collection represented her signature use of intricate embellishments, bright colours and the precise fusion between modern and traditional work. Her line was sophisticated, chic and modern, with a tasteful touch of traditional influences.
"Reflections" by Uzma Babar was the next collection to follow. The collection was based on the five main ceremonies ; from mayoon to valima which reflect the 'Big Fat Weddings' of Pakistan. With high-tech gleaming fabrics, peppered with glittering beads to give a radiant look to the brides, her outfits were expertly crafted to perfection with fine detailing and vibrant colours, reserved especially for the wedding season.
First Act of Day 2 was concluded by Rani Emaan's "Jewel of the Nile". Her collection based on hues of reds, maroons, golds, corals, greens and nudes with very intricate but detailed embellishments was breathtakingly gorgeous and will be remembered for a long time. The exquisitely done pieces were adorned with quintessential kora and dabka but resham cut dana, tila, pearl and real stones rule the roost. The fabrics included chiffon, kundan, zari, banarsi, self-jamawaar and self-chamois were carefully chosen and put together.
Day Two Show Two opened with a beautifully choreographed hair and makeup show by "Sabs the Salon". The Hair & make up presentation was followed by the much anticipated showcase of "Power House of Fashion", which included stalwarts of the fashion industry such as Ali Xeeshan, Khadijah Shah, Kamiar Rokni, Nickie Nina, Sana Safinaz, Shamaeel Ansari and Umar Sayeed.
The star of PIFD, Ali Xeeshan opened the segment with a dramatic style. His signature flamboyance was prominent in his collection – the use of unusual colour shades and high-end luxurious fabrics merged with unconventional embellishment techniques in both traditional and contemporary cuts. Staying true to their statement of elegance, style and panache, luxury brand Elan presented their timelessly beautiful collection which was followed by Pakistan's premier fashion design house, The House of Kamiar Rokni led by Kamiar Rokni, Tia Noon and Rehan Bashir. The House presented its core philosophy to embrace art, culture and imagination in their fashion.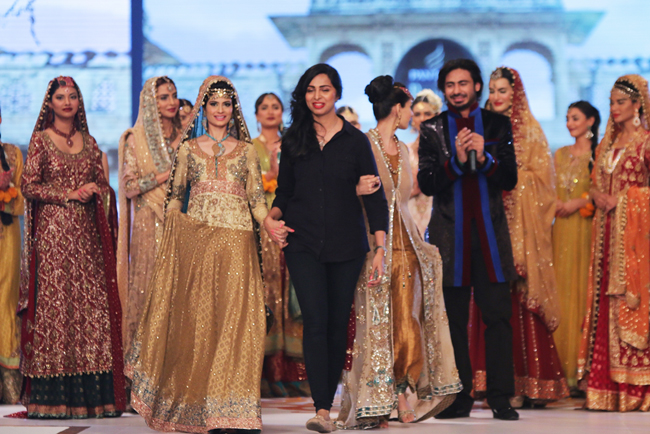 The internationally acclaimed designer duo Nickie Nina was next to follow. They presented their alluring designs with a variety of luxury fabrics, innovatively fusing different textures and aesthetically pleasing colour scheming. Each piece was uniquely handcrafted using a range of diverse methods such as wasli, karchob, zardozi, silk threads, semi-precious stones and Swarovski crystals.
Queens of haute couture in Pakistan, Sana Safinaz dazzled the audiences with their timeless creations. Their sleek, contemporary and streamlined cuts received huge applause from the attendees. The sleek, chic and timeless creations of the "fantastic duo" paved the way for the fashion heavy-weight, Umar Sayeed. Umar Sayeed's creations comprised luxurious details such as hand beading and dazzling craftsmanship. His integration of hand-embroidery with both delicately intricate and bold designs was awe-inspiring and received an overwhelming response from the audiences.
The living legend of Pakistani fashion industry, Shamaeel Ansari skillfully played with elements and imagination to weave vibrant tapestries of colours and textures. Blending east and west, leisure and decadence, oriental and the outright contemporary and sensuousness in her creations, her mastery over vintage techniques was staggering.
After the fantastic and ravishing showcase by the legends of our fashion industry, the audiences were given yet another collection to talk about by charismatic Yasmin Zaman. Her collection was inspired by the motifs and patterns found in Mughal art and architecture. Her collection was based on the floral and geometrical designs symbolizing the fusion of Central Asian and subcontinental art forms.
The element of arches has also been incorporated to signify the Central Asian aesthetic which has influenced the evolution of dress sense in the subcontinent. Every piece was mastered to perfection with traditional craftsmanship employing aari, zardozi, kamdani, melded with in-house hand-printing to reflect the commonality in our traditional and modern demands.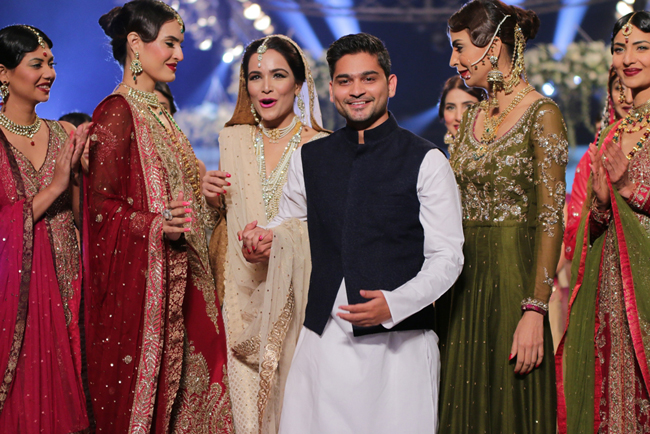 Day 2 of PBCW 2014 was concluded in a dramatic and glamorous style by none other than the brilliant Faraz Manan. His collection titled 'Istanbul' was inspired by the beautiful fusion of Asian culture and European flavour present in Istanbul. Manan conjured up fabulous creations out of chikan kari, thread work, and Swarovski to execute this glamorous collection. His collection encapsulates couture and ready-to-wear women's and menswear for an androgynous chic line. He also used regal hues like gold and metallic, ice blue nude, prink and olive green to translate austere elegance into his very warp and weft.