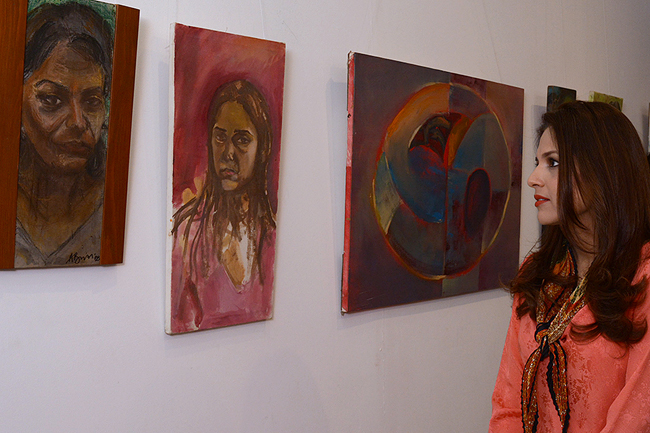 Rebel Angel is a monograph on the works of the late painter, graffiti artist, activist and muralist Asim Butt, which encompasses the prolific body of work that he produced during his career, cut short by an early death at the age of 32.
The monograph reveals Asim Butt's relentless exploration of existential paradoxes and his thoughtful enquiry into the psychological conditions of the human mind, portrayed in terms of the convulsive and the ruptured as was his more natural view of the world. It explores his work as much as his persona as a troubled soul and adoring friend. Rebel Angel has been edited by Nafisa Rizvi, with Layout and Art Direction by the Design Team at PeacheNiche and Photography by Arif Mahmood and Mahwish Rizvi at Markings Publishing. The monograph further includes essays about Asim Butt as contributed by leading art and literary personalities such as Naiza Khan, Raza Rumi, H.M. Naqvi, Zain Ahmed, Saira Irshad Khan and Arif Mahmood. Rebel Angel was introduced on 5th April 2014 at Canvas Gallery, Karachi through a ceremony which also marked the launch of Markings Distribution.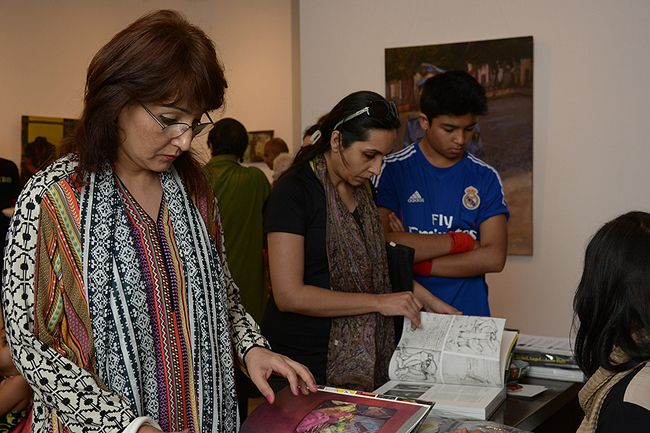 The launch was opened with an introduction by Abid Butt, late Asim Butt's brother, who spoke briefly about Asim Butt's work. This was followed by an address by Tuba Arshad, Creative Manager at Markings. Renowned art critic Marjorie Hussain also spoke at the occasion highlighting the life and work of Asim Butt. The event concluded with an auction of art pieces by Asim Butt. The event was attended by art enthusiasts, collectors and members of the media alike. Public Relations for the event was handled by Lotus.
Speaking about the monograph, mother of the late Asim Butt, Amna Zahid said; "The monograph collates the main body of Asim Butt's artistic works to preserve his profound legacy of ideas and emotions. This volume is a record of Asim's personal struggles and soulful reactions, as he tried to find sense and order in a world that seemed to know neither. Asim Butt was thirty two years of age at the time of his death, yet during this brief passage he touched countless hearts with his spirit and generosity. This monograph, we believe, should inspire both regret and comfort. Regret, that a talent so admirable was lost too soon and Comfort in the fact that his best works are before us to appreciate in perpetuity. May he continue to shine always, in these pages and beyond."
"This book has been a gratifying labour of love in the true sense of the term as every person involved in its publication was known to Asim Butt, some more closely than others. Yet these are not just personal perspectives and the endeavor of this book is to offer a larger audience an insight into the unique artist, writer and practitioner that he was. For the individual memories and anecdotes associated with Butt, his friends and family live to tell them, but for now, this book is a comprehensive collation of his works that never seem to grow stale, no matter how much time passes or how often we view them." said Editor Nafisa Rizvi.
Markings was founded in 2010 by Kiran Aman, with a vision to build a platform that nurtures creativity and diversity. To further this goal, the company now launches Markings Distribution, which will focus on quality distribution of unique global and local titles. It will be advised by Mehreen Rizvi-Khursheed as a specialist consultant, who is a leading figure in South Asian and Middle Eastern Art having been Head of these departments at Sothebys (1992-2002) and Bonhams auctioneers (2003-2013). She also serves on the Tate Museum's acquisition committee for South Asian Art (SAAC). Markings Distributions aim to provide the Pakistani market with significant titles in the Arts and make publications of Pakistani art available to a wider global public through Amazon. Rebel Angel is Marking Distribution's first project.