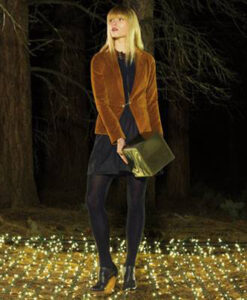 Frosty December is here. It is time to get your latest winter survival wardrobe because it's going to get shivering cold any day. And with New Year coming up, we know you want to stand out from the partying crowd with a dazzling style of your own. Dressing up for a formal soiree or a girls' night out, you are always going to hit the right chords of style with Levi's®.
This winter, Levi's® has got a whole new line of women's wear with a blend of soft textures with bold metallic and techno prints tailored with a profound attention to detail, aiming to personify the matchless classic quality and style of Levi's®, with a modern edge.
Love mixing and matching to show off your personal taste? Levi's® winter wear can help you out by offering a little timeless flavor, for which Levi's® has always been known, blended with a little hip from contemporary times. Button up the snazzy velvet jacket from the Levi's® collection for a soft and silky warmth which offers the most fashionable take on a classic smoking jacket. This is a must-have that's equally perfect for a work loaded week or a bash on the weekend!
If you are going for a more new-age theme for your style this season, the Levi's® Peplum Puffer Jacket is exactly what you are looking for. Zip it up over a pair of jeans and let it turn heads for you, the show stopper tonight. Keep aside those old blue jeans and make some space for Levi's® black jeans that add a sizzling hotness to your winter wardrobe! This black denim comes in textured to metallic and brocade prints for you to pick from. Levi's® black jeans are a perfect fusion of the vivacious look of a diva and the class of a lady.
Mix up boldness with a pinch of grace with the Levi's® leggings that come fused with prints from classic to digital with just the right touch of techno sheen. Available in jewel tones, metallic, appliqué and paisley, Levi's® leggings are the best for the celebration of fun and frolic.
Throw together the Levi's® black jean with a Levi's® Edwardian Western Shirt or a Bolo Tie shirt out of the Black and White collection for an urbane look with a hint of dare. Or you can pair up the sassy Levi's® leggings with a super cute batwing shirt; the choices are limitless!
This season, Levi's® is all about creating the ultimate cutting edge look for modern, fast paced times while keeping alive the ageless Levi's® signature style.