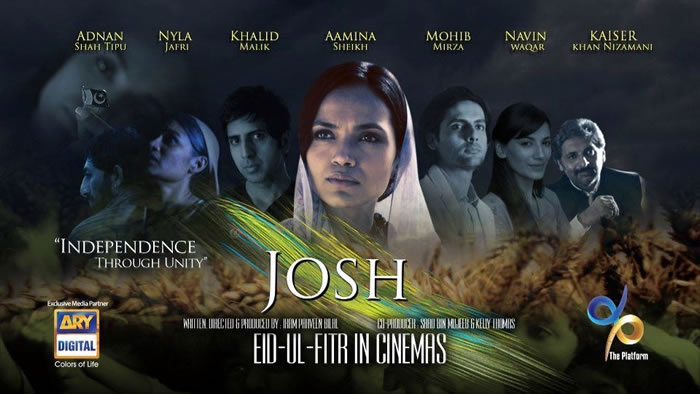 Pakistan film industry has suffered immense blackash and was breathing its last in last few years especially with the influx of foreign cinema. In the past few years, viewership of Pakistani films also decreased because of same sort of typical Pakistani films. Now Pakistan film industry is moving towards the betterment and improvement.
Many directors and producers are struggling for revival of Pakistan film industry. Many young talent and emerging film makers are being promoted. There is a lot of talent within Pakistan and its importance cannot be downplayed despite the intervention of international media. Khuda kay liye and Bol were super blockbusters in Pakistan cinema industry and Bol not only gain fame in Pakistan but also in India.
Recently a platform was launched at Atrium cinemas, which was an initiative to promote the young talent and emerging filmmakers. This launch also unveiled the upcoming Pakistani Urdu movie JOSH which has been written, directed and produced by Iram Parveen Bilal."JOSH" is an upcoming lollywood film and expected to be helpful in the revival of Pakistan film industry.
This platform was introduced by the effort of collaboration of Nadeem Mandviwalla of Mandviwalla Entertainment and the CEO of Ary Digital Network, Muhammad Jerjees Seja to support young film makers to promote and market their films. The story of JOSH revolves around character Fatima. A famous actor Aamina Sheikh is playing the role of Fatima. Aamina Sheikh, Mohib Mirza, Khalid Malik, Naveen Waqar are leading stars of the movie Josh.
Mandviwalla said that success of a movie and cinemas depend upon how public perceive and rate the movie. He also added that government also contributed a lot for success of Pakistan film industry. Seja added that with their collaboration with Mandviwalla Entertainment, the platform will help sponsor, promote and distribute new local films. Mandviwalla also made it clear that Bollywood films will not rescheduled for Pakistani films. He firmly believes that viewership of a film depends upon quality of the content and every film deserves a shot at the silver screen.
Duo promoted the upcoming movie JOSH which is their first project and will be release on Eid. The movie JOSH is against the grain. The themes being tackled in JOSH are class separation, feudalism, poverty, individual empowerment and women's right. In an interview the writer, producer and director of Josh Iram Parveen Bilal said that "this film is inspired from the life of Perveen Saeed the founder of a charity home named KHANA GHAR that provides heavily subsidized meal to the poor.
My feelings cannot be assessed; they are on a different level. I play a humble, domesticated role and khana ghar was a small venture of my own. I hope one day nobody in this country sleeps hungry." Iram appreciated Seja and Mandviwalla's efforts and said that duo had given her dreams "wings to fly".
Pakistan Film industry suffered a lot in past few years. This platform seems to bring a new ray of hope for young directors and film makers who have been struggling in the small sized industry to pursue their dream.  With the help of both stakeholders, JOSH will make it to the big screen and will increase the value of Pakistan film industry.