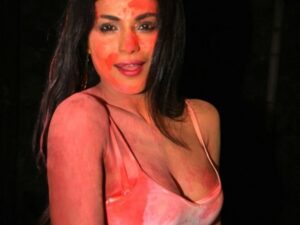 By now everyone knows the name of the Controversy Queen, Veena Malik who gained tremendous amount of fame from the past 2 years from her reality show 'Big Boss Season 4'.
She has received the same amount of feedback on her Bollywood acts just like her fame. Though somehow the news we hear about her starts and ends with controversy.
After the reality show Big Boss, Veena Malik was surrounded by controversies. From the controversy of her 'drinking' at Ashmit Patel's birthday to the nude photoshoot of FHM Magazine then came her news and denial of her stripping for a Bollywood movie Zindagi 50:50, she manages to surprise everyone every time. However, Veena always says that it is a conspiracy against her. I wonder what Veena Malik really did to offend those who are doing these conspiracies against her.
Some people consider Veena Malik as a 'role model', a 'brave' and 'bold' girl Pakistan has ever produced, truly supported Veena despite her acts and controversies in Bollywood. But most of the people showed no mercy in showing their frustration and anger towards Veena and her doings. They let their anger out on different discussion forums on the internet and some naughty ones even made sarcastic comics on her.
Recently Veena Malik celebrated Holi or shall I say 'Got the holi treatment' for the first time in India. Veena Malik is currently in India for her movie 'Daal Main Kuch Kaala Hai' which is scheduled for release in May 2012 and was on her way for the dubbing when the director of her first movie Aanand Balraj welcomed her in a colorful style. The actress had fun playing her very first Holi in India and also dancing on her songs Bombay and Madam Malai.
Though like her previous acts in Bollywood, this also angered the people here in Pakistan after hearing and seeing the videos and photos of our 'colorful star'. But then again there are people who also appreciated her like they always do every time she does something in Bollywood.
Veena Malik, who also became a vegetarian, said that the colors which she played Holi with were environmental friendly and were prepared from natural herbs.
After having fun playing her very first Holi with eco-friendly colors, Veena Malik wants to entertain her viewers a lot more as the multitasking Veena has done not only acting and modeling but anchoring and even cricket commentary during the recent Asia Cup 2012. She does not want to leave anyone out of her entertainment plans. She has something for the music lovers too. Yes!! Veena Malik plans to release her own music album and pursue with her singing career. According to her 3 songs have been recorded and 5 more are in the pipeline.
And forgetting not to mention the 2nd reality show of our controversial friendly Veena Malik 'Veena ka Swayamvar' will be on-air soon. Let's just hope we don't get to hear anymore controversies involving Veena Malik. Oh wait, what am I saying!! There are always controversies when our actresses are in Bollywood whether it is Veena or Meera. What's the difference?