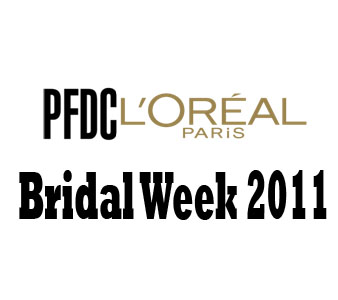 L'Oréal Paris, the world's leading beauty brand and the pioneering Pakistan Fashion Design Council (PFDC) announce their exciting partnership through the PFDC – L'Oréal Paris Bridal Week 2011 to be held in Lahore, Pakistan in September/October 2011.
Culturally, in any Pakistani wedding, the bride is always the focus, with her outfit and color palette, make up, accessories and overall bridal look chosen in keeping with the belief that a bride is to be the most beautiful woman for that special day. Indeed Bridal fashion remains the most influential and primary form of fashion and style within Pakistan today. To this end, the PFDC – L'Oréal Paris Bridal Week 2011 endeavors to define and present both contemporary and traditional Pakistani Bridal Fashion and Make-Up trends.
With a diversity of creative and style gurus involved for this week of fashion, the PFDC – L'Oréal Paris team will showcase L'Oréal Paris' Beauty portfolio, spanning across three days with over fifteen runway shows. A bride's fashion and a bride's make-up complement and enhance each other to bring out a unique bridal look. The PFDC – L'Oréal Paris fashion vision also shares the same belief, which is to ensure that the week highlights bridal fashion trends and defines the bridal hair, skin and make-up, all combining to create the 'look' for the season!

Speaking on partnering with the Pakistan Fashion Design Council, Managing Director L'Oréal Pakistan, Musharaf Hai said: "Bridal Fashion is at the heart of Pakistani culture and we are delighted to be partnering with fashion and style leaders the PFDC to showcase new talent, beauty and fashion trends in this industry."
"In resonance with our history of furthering the fashion industry of Pakistan, I am pleased to announce Bridal Week 2011. This collaboration with L'Oréal Paris is another milestone for the PFDC who believe strongly in the synergy between corporate business and fashion. We endeavor for this show to spearhead trends within the all important bridal and couture market and open new vistas for designers to formalize their couture business through this platform.
Furthermore and significantly, through Bridal Week we will introduce and define an annual look for brides for fashion, style and make-up", said Sehyr Saigol, Chairperson of the Executive Committee of PFDC. PFDC – L'Oréal Paris Bridal Week 2011 is scheduled to take place in September/October 2011.