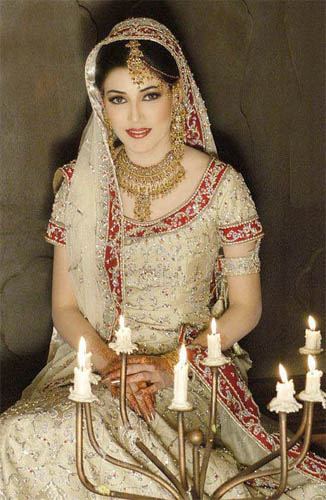 Bridal dresses change according to the fashion trend in Pakistan fashion Industry.
In an Asian community, especially in our subcontinent wedding is the most special and memorable day in a woman's life. Teenage girls start dreaming about their wedding as soon as they get into their marriage age. They want to look out of this world and remembered by everyone all their lives. The most important thing is their wedding dress which is the BRIDAL DRESS of a bride.
Bridal dress of a woman makes her look different from others. Pakistani woman has become very fashion conscious. They have started to feel the importance of fashion designers. Designers who are expertise at bridal fashion. They choose designers rather than getting into the hassel of choosing the cloth, colour combination, embroidery and stitching.These fashion designers not only help them look good but also be remembered. Bridal dresses are of different types like gharara, sharara, lehanga choli and mermaid cut lehanga etc. Woman usually selects the type according to the fashion trends.
The embroidery and motifs being used make the wedding dress gorgeous and beautiful. These include dabka, tilla, sequins; bead work; Kora, naqshi, cut-glass and other various ornamental works. To make it really look of this world some woman use Swarovski crystals along with real gold threads just to make it PRINCESS DRESS. These ornaments add up elegance and beautify the bridal dress.
In this fast pace of time, woman want the best on her wedding day and she being the bride is the most important aspect of the day. Bridal dresses available are of different costs. One can choose according to their budget.
Pakistani wedding dresses and weddings are well known all over the world. The traditional outfits and ceremonies are part of our society and ethics. Bridal dresses are complimented by the beautiful jewellery worn by the bride. The jewellery is also selected according to the colour combination of the dress. Jewellery designers are also available to design all sorts of jewellery according to the dress type.
The increase in Pakistan fashion industry has brought about awareness among the people and they have become conscious in their wearing trends. Special dresses on special occasions have become important for all classes of people. In the same way, wedding day and the bridal dress has become a status symbol for people.