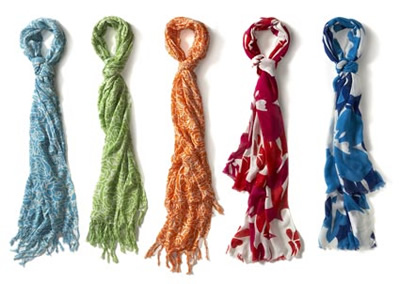 Before we, Pakistani say a final farewell to winters, now is the time to enjoy the feel of warm, soft fleece and fashionable Pakistani scarves made from various materials like silk, pashmina, fleece and cashmere.
Have you ever imagined yourself in one of the Pakistani winter scarves taking a walk in the snow, skiing or just going to the grocery store? Well, here is a chance to experience the colours of Pakistani scarves which are stylish, colourful and warm.
Pakistani scarves are the most basic of all winter accessories offering style, grace and warmth combined together. These Pakistani winter scarves are smooth enough for sensitive skins and are an essential classic for any wardrobe. The soft, light weight and warm Pakistani scarves are exquisitely finished with hand-tied tassels or beads, crocheted or even embroidered. These scarves are made of pashmina, crochet, cashmere, wool, velvet or chenille. These Pakistani winter scarves can be square, oblong or triangular in style.
These warm winter scarves made from knit wool or fur are in high demand nowadays. Pakistani winter scarve can either be both hand-knitted or machine knitted. They are available in many colour combinations. Their price ranges from rupees 150 and goes up till rupees 5000. Traditional patterns of scarves include paisleys, floral, animals, and geometrics.
You can choose and match scarves with many stylish and warm fashion winter accessories including winter fur headbands made from fox fur, rex rabbit fur, or mink and leather jacket or coat.
Such Pakistani winter scarves make great gifts for birthdays, Eids, or just to say, 'I love you.' Oh, don't forget to get yourself one and get them gift wrapped!