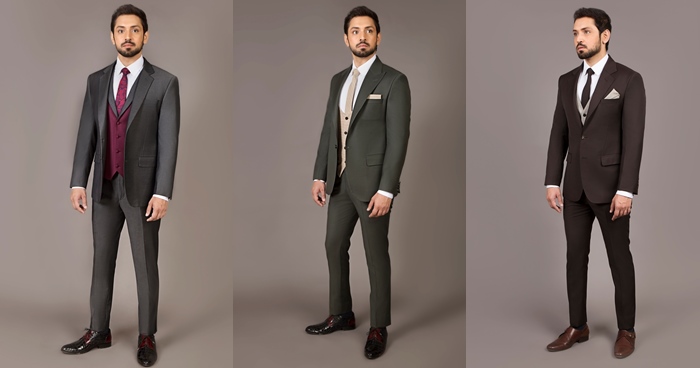 Andre Emilio, the renowned bespoke clothing brand, has launched a new menswear luxury collection for Spring/Summer 2021.
Primavera Collection is inspired by contemporary fashion and traditional styling. It is specifically crafted for those who prefer splendid clothing to make their style statement. The fresh and exquisite designs are made to perfection and well-suited for all body types.
Andre Emilio is committed to delivering supreme quality menswear with a genuine experience of bespoke suiting. While staying close to the high standards, we favor the Italian cuts with Italian fabric to craft sophisticated and elegant suits that meet your requirements and extol your style.
Andre Emilio has launched a unique range of menswear featuring contemporary styles with amazing combinations of hues. The alluring and enticing collection features three-piece suits, tuxedos, and all you need for your special to causal events. Our new collection carries a tremendous variety of vibrant colors such as Dark Brown, Charcoal Gray, Basil Green, and light such as Cream, and White.
The waistcoats are aesthetically contrasted with recherche blazers. Noted combinations are Dark Brown with Cream, Basil Green with Pinch of Cream, Charcoal with Maroon, and Jet Black with Crisp White. The contrasting waistcoat gives a more delicate and classier look. The British Style suit jacket vents display the modern style in your look. We give special attention to the fabric details and choose special material to make unwatchable suits that makes your big day more special.
Andre Emilio strives hard to bring exquisite and bold menswear suits to the market. We desire to tailor suits that perfectly fit the body and boost your look at your special moments. While adding confidence to your appearance, our outfits feel incredible next to the skin and make you feel comfortable.
The breathable fabric is quintessential for all seasons and does not irritate during warm or cold months. Millions of dollars are wasted on ill-fitted and poor designs that affect the overall experience of the customers.
Those who are planning for the wedding round the corner, don't need to feel neglected. Our latest collection contains a wide selection of luxurious and festive designs for the wedding season. The customization allows you to design your suit as per your requirements to get the perfect groom look as per latest trends. The silhouette and finishing look depend on the material that is being used.
We give options of customization to the grooms to a great extent that they can use the thread of their own choice. Similarly, they are free to match their pocket square and tie with the bride's attire to get a power couple looks at the wedding. The footwear can also be customized according to posture, style, and personal preferences.
Andre Emilio understands the clothing needs and requirements of men. We have also introduced luxury suits for your business meetings to dates and award ceremonies to high-end parties. Our suits are a beautiful amalgamation of classic tailoring with contemporary designs that never disappoint you anywhere.
Premium material including fabric, style, and cuts, of our product, are reasons to provide a remarkably flawless look to the modern man. We offer a platform, where you can enjoy luxury as well as express yourself in the best way.
For further information on Andre Emilio please visit:
E-store: www.andreemilio.com
Facebook: @AndreEmilioClothing
Instagram: @andreemilio.official
About Andre Emilio:
Andre Emilio flagship store is located in Fortune Mall, MM Alam Road Lahore. On the web you can get complete details of our collections and products at www.andreemilio.com Customers can call also to get an appointment or contact us via voice or WhatsApp no 03000800745. Last but not least the brand has a strong presence on the social media.