Aamir Liaquat Hussain is a Pakistani television host and politician who has been a member of the National Assembly of Pakistan since August 2018.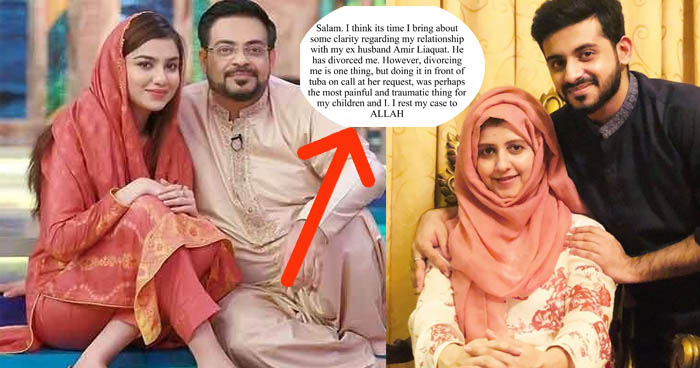 Aamir Liaquat Divorced his Wife
Syeda Bushra Iqbal ex-wife of Aamir liaquat hussain first time opens up about her relationship status with Aamir Liaqut and reveals about divorce in an insta post.
She changed her name last year from syeda Bushra Amir to Syeda Bushra Iqbal after which people raised question about her relationship status with Amir Liaqut
Syeda Bushra Iqbal took her social media and shared her divorce story. Amir Liaquat divorced Bushra Iqbal on a phone call in front of Tuba Amir and at her request. 
"Salam. I think its time I bring about some clarity regarding my relationship with my ex husband Amir Liaquat. He has divorced me. However, divorcing me is one thing, but doing it in front of tuba on call at her request, was perhaps the most painful and traumatic thing for my children and I. I rest my case to ALLAH"
 

View this post on Instagram