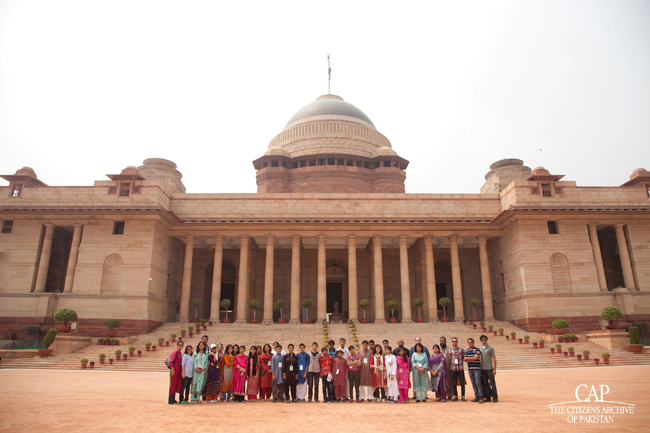 The Citizens Archive of Pakistan (CAP), in collaboration with Routes2Roots (R2R), an Indian non-profit organisation working for peace and dialogue between Pakistan and India, have successfully completed a physical exchange between Pakistani and Indian students as a culmination of the fourteen month project, 'Exchange for Change'.
To mark the successful completion of the project, a thirty-three member Indian delegation came to Pakistan on the 2nd of September 2013 to visit Lahore, Islamabad and Rawalpindi. While a similar thirty-six member Pakistani delegation travelled to India to visit Delhi and Agra on the 10th of September 2013, crossing over the Wagah – Attari border by foot.
CAP and R2R believe that such interactions will further build upon the relationships developed over the life of the project, leading to a positive change in restructuring cultural misconceptions and inter-generational conflict.
It is believed that youth interaction and direct communication will in time lead to a more informed and fundamental understanding of each other. During their one-week stay, students and teachers from the participating schools visited partnering schools, engaged with their counterparts and visited historical and cultural sites across the five cities.
Exchange for Change is an exciting initiative by CAP that aims at improving relationships between school students in different countries. The program seeks to help students across borders realize that dialogue is possible and sustainable.
Through cross-culture communication we have realized that students can have a clearer understanding of their history, culture and life styles. CAP believes that such interaction will in turn lead to a positive change and eliminate cultural misconceptions and inter-generational conflict.
Exchange for Change was first launched in September 2010 between 2400 school children from 10 schools in Karachi, Lahore, Delhi and Mumbai. After its spectacular success the project was expanded in 2012 to 3500 school children from 17 schools in Karachi, Lahore, Rawalpindi, Delhi, Chandigarh and Mumbai.
During the fourteen-month life of the project, a sustained exchange of written, visual and oral histories linked school children aged 10-14 years across the six cities. The selected schools from across six major cities ensured a holistic dialogue between students belonging to diverse socio-economic backgrounds.
The 'Letters to the Past,' series kicked off the project in September 2012 during which students engaged in letter writing activities, sharing their thoughts, values, hobbies and interests with each other. A special emphasis was laid upon discussing historical and cultural facts so that students were not only able to make friends across the border but also participate in information exchange.
Between December 2012 and February 2013, the 'Photography Series,' involved students in making postcards, greeting cards and collages based on four themes: school life, food, festivals and marriages and historical monuments. This endeavor enabled students to familiarize each other with the history, culture and lifestyle.
The 'Oral History' series was conducted between February to April 2013, adding an audio-based dimension to the project. Students interviewed their grandparents, collecting historical narratives about various cities across Pakistan and India as well as their recollections of the early years.
Speaking about this initiative, Swaleha Alam Shahzada, Executive Director and Governing Board Member of CAP said: "As we crossed borders once again, we stand to have proven that by appreciating differences and celebrating similarities of the 'other' we can build bridges. The second round of Exchange for Change marks another giant leap in our shared history. Our stories are the same, we just need to share them!"
Tina Vachani, Founder of Routes2Roots said: "This program has been very close to my heart and has given me immense satisfaction to see the growing friendships between the children of the two countries. It is a great pleasure to see the growing understanding between the students and change in perceptions and biases which helps us to dream of a brighter future."
Schools from Pakistan who participated in the project included Mama Parsi School, BVS Parsi High School, AMI School, School of Technical Sciences, The Trust School, The Citizens Foundation, Quality Schools Foundation, Quaid-e-Azam International School, White House School and Gulshan-e-Iqbal Public School. Indian participating schools are Gem Public School, Saupins School, The British School, Adarsh Vidalaya, Shree Amulakh Amichand Bhimji Vividlakshi Vidyalaya, Guru Harikrishnan School and Tagore International School.
About CAP:
The Citizens Archive of Pakistan (CAP) is a non-profit organization dedicated to cultural and historic preservation, operating in Karachi, Lahore and Islamabad. We seek to educate the community, foster an awareness of our nations history and instil pride in Pakistani citizens about their heritage.
Our organization has three main goals; to preserve and provide access to the archive, to build and support educational programs and to develop educational products based on the testimonies collected. Our vision is to develop CAP as the foremost museum and heritage centre of Pakistani history, photography, culture, literature and historical documentation demonstrating the strength and spirit of Pakistan from the perspective of a citizen.
About Routes2Roots:
Routes2Roots (R2R) is a registered non-profit charitable organisation, which endeavours to bring together people, cultures and values across the SAARC countries, in particular India and Pakistan. R2R has organized numerous programs across the country from artists from Pakistan and other SAARC countries and have sent Indian Artists to these countries in a move to enhance people to people understanding and make this region a peaceful place.
Routes2Roots has been actively engaged with ICCR, Delhi Tourism, Rajasthan Tourism, J&K Tourism and other government and non-government organizations. R2R are also a member of World Association of NGO's New York USA.