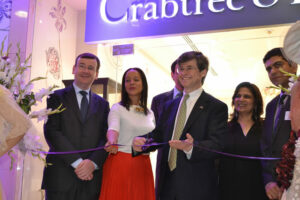 Adam Thomson, British High Commissioner to Pakistan, today promoted Pakistan as a good place for British businesses to invest while inaugurating UK beauty care retailer – Crabtree & Evelyn's first store in Pakistan at Dolmen City Mall, Karachi.
The British Deputy High Commissioner and Director of UK Trade and Investment Pakistan, Francis Campbell, attended the launch ceremony along with renowned fashion celebrities and media personalities in Pakistan.
Cosmo Group, founded in 2000, is the distributor for Crabtree & Evelyn in Pakistan. Crabtree & Evelyn will be joining other famous British brands in Pakistan such as Body Shop; hair care brand Toni & Guy; clothing retailers Next and Mothercare; and Pakistan's first international department store Debenhams. Adam Thomson, British High Commissioner, said:
"Pakistan has the potential to be the primary target for all British brands who want to benefit from this relatively untapped market. We were delighted to work with Cosmo Group in helping Crabtree & Evelyn's achieve this milestone. They will be joining other British brands such as Next, Body Shop, Toni & Guy and Debenhams, in bringing jobs and investment to Pakistan.
"The UK Government is fully committed to building on the bilateral trade relationship between our two countries. Encouraging more British companies, including those like Crabtree and Evelyn in the retail sector, to choose Pakistan as an investment destination will be key to achieving this. This new store represents further progress towards our goal of increasing the £1.9bn worth of trade that already flows between our two countries every year to £2.5 billion by 2015."
Cosmo Group has brought a number of high quality premium brands in the health and beauty industry to Pakistan. Brands such as OPI, Skin Medica, proactiv solutions and keratin complex were introduced successfully in the market, by conducting several educational seminars for opinion leaders on local and international levels. Over the years, Cosmo Group has helped create awareness of new international trends amongst Pakistani consumers. Cosmo Group has announced aggressive investment plans for the future and intends to emulate its commercial retail concepts in both Lahore and Islamabad.
Director of Cosmo group, Fouad Sayeed said:
"The opening of this facility is expected to not only enhance the friendly image of premium retail but also provide the emotional experience and aspiration to the consumers. The company has committed itself to offer top of the line international products. As an organisation, we feel that there is great potential in Pakistan and we are glad to be at the forefront of bringing premium cosmetics for the Pakistani consumers."