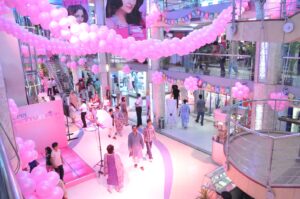 A novel campaign was arranged by beauty and personal care brand Capri at Park Towers Karachi recently where people enjoyed a host of activities including pink pampering, beauty advice and guidance from beauty experts and more, all to create a Pink impact for those in attendance. The four day long activity was in line with the pink variant of Capri Soap that has been doing the rounds with media  personality, Ayesha Omar as its Brand Ambassador. With this activity, Capri gave the phrase "Paint the Town Pink" literal meaning by creating a unique experience for everyone in attendance. Aptly named, Pretty in Pink, the campaign commenced with a unique idea of giving out invitations for the activation through a vehicle based activity by driving around Karachi in a Capri Pink Car, which ladies, especially young girls who collected these and eagerly waited to visit the Capri Pink Lounge.
At the venue, which was decorated in keeping with the theme, a number of activities were arranged which were thoroughly enjoyed by all. Girls were given special beauty lessons on how to have clear, beautiful skin, advice and solutions to their skin problems by experts. In keeping with the brand's ethos of beauty inside and out, girls were given talks and consultancy in how to be confident and carry themselves in social situations with poise. A photo booth was also arranged where ladies got instant photographs where the images looked like a glamorous cover photo shoot of a magazine. Strawberry pink drinks were also given to those at the Pink Lounge.
The weekend activity came to a festive closing with a one of a kind Flash Mob, which was a engaging display of music and dance lead by professionals in which the attendees also participated to create a new experience for everyone. Six performances with 20 professional dancers were displayed from 5.00 pm onwards at Park Towers.
The following comments were overheard from many attendees "Park Towers has turned into Pink Towers!".
Capri has been caring for the Pakistani woman since its inception forty years ago, and with this activity, one of Pakistan's oldest beauty brand's has shown its commitment to beauty by caring and pampering women.