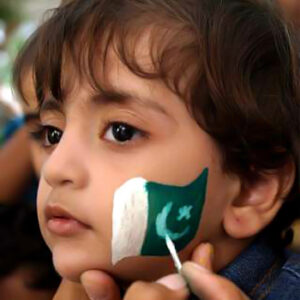 Zest and enthusiasm of this day can be observed on every face but the glowing faces of kids had no comparison that make this day more beautiful and special for every flag-waver. Jovial laughter in good spirits, green badges, green and white dresses and small flags turn out to be the code of every kid without prior instruction. Most of the kids never agree to compromise on any of these Independence Day items to make their day more cheerful.
Independence Day celebrations have their own charisma that seems to be a moment of joy for every kid who are always on forefront whether we talk about independence day decoration with flags, paper chain, special ceremonies arranged in different schools and institutions or wearing of special green and white dresses. This green and white celebration creates a joyful moment for every kid and most of them know about the importance of this day better than their elders.
Kids love to wear special costumes designed with the insignia of Independence Day. Most favorite costume for this day that kids love to wear are different green and white traditional dresses, army uniforms and Jinnah dress as every kids wants to look like a hero.
14th august bring a feeling of joy for every Pakistani no matter where they live but the real joy and contentment of independence day that we observe here in the streets of Pakistan have no comparison. Decorated streets with the blissful music of national anthems create an environment of happiness and joy.  This special day spreading the colors of cultural traditions and patriotism always promote a feeling of oneness among whole nation. Kids love to give enchanting performances in different ceremonies and participate actively in every Independence Day to show their passion and love for their country.
The limelight of Independence Day celebrations gives the mesmerizing feeling of being united that promote a feeling of oneness among whole nation.