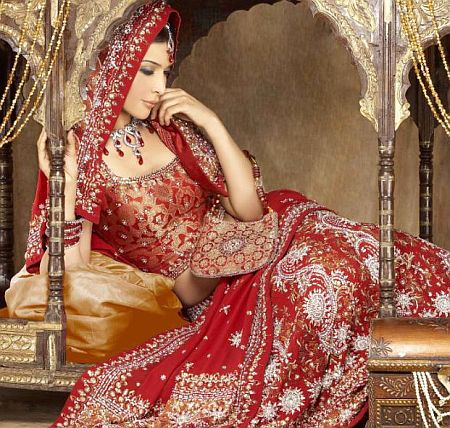 At a wedding in our country, there is no greater hype than the bride's wedding dress. It would be adequate to say that most people turn up for the wedding for two reasons only; the free food and the bridal wear. Four out of five weddings that I recently attended, I didn't know the people at all and was just a random guest. I went nonetheless because I wanted to see how the bride looks like in her wedding dress. Hearing random aunties ogle the bride up and praising her on her bridal wear is a treat in itself, regardless of the fact whether you know the bride or not.
Shades of red are the norm of Pakistani wedding dresses. Every bride wishes to have the color red as her bridal wear with slight variations of the color maroon or deep red. The traditional color red on the bride looks radiant and vivacious. Where most Pakistani brides go for the darker shades of red on their baraat as their wedding dress, lighter colors and pastels for bridal wear are considered appropriate for the walima.
The Lehnga has been the traditional Pakistani wedding dress for years now. But with the changing trends in fashion, the wedding dress has undergone numerous variations too and is now available in different cuts, shapes and forms. For starters, there is the traditional lehnga which is like a skirt but with extra flare and a short kurti over it as a bridal wear. Then there is a sharara which is like pants but with a lot of flare. A sharara is normally worn with a slightly longer shirt than a lehnga. Then there is the gharara too which is tight from above but has a lot of flare from below the thigh area. Gharara is worn with a long shirt and goes well with a short shirt too. Then the newest trend in the Pakistani wedding dress is the chooridar pajama with an Angarakha shirt.
Despite all the variations in the Pakistani bridal wear, one thing that never has changed and hopefully never will is the dupatta. It has always been a part of the Pakistani bridal dress and will remain to do so because this is what enhances the real beauty of the dress itself.
Therefore, I think it would suffice to say that despite all the changes in the Pakistani wedding dress over the years, it is still the most amazing aspect of a wedding and as much as the free food at a wedding tempts me, I'd be honest enough to admit that I go to weddings to admire the bride and her wedding dress, just like all the other aunties there.