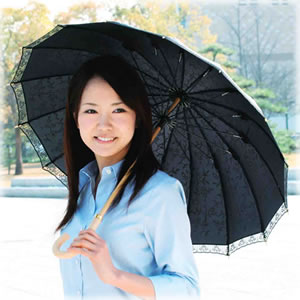 For the past two three years, the use of umbrellas especially by the women in Pakistan has increased a lot. Due to increase in usage various style and trends are also observed.
Summer is here and sun seems to be shining at its peak. So girls it's definitely the time you get your umbrella to protect yourself from the sun. The umbrella trend in Pakistan gets at the peak during the hot summer months which normally last from May to September.
The umbrella trend in Pakistan got popularity from major university campuses of different institutions. As the weather is very hot in most parts of Pakistan and it is quite hard to move from one place to another on foot, therefore, the summer umbrella trend brought in the ultimate convenience everyone was looking for.
Earlier, it was hard to find a lot of variety and designs for umbrellas to follow up the umbrella trend in Pakistan. Many fashion lovers and trend seekers for umbrella trend in Pakistan got different good quality and variant umbrellas from foreign lands because in Pakistan only the typical multi-colored and black umbrellas were available only. Gradually, with the increase in demand, variety stared to get seen in markets for umbrella trend in Pakistan. Thanks to all the great Chinese umbrella making companies that initiated newness in umbrella by adding different fabrics, glittery stones and various cute motifs to add charm and beauty to simple Umbrella.
The umbrella trend in Pakistan is more popular in the summer season than in winters or monsoons even. The reason for this is that Pakistan is not a place where it rains frequently and even when it rains, girls seems to enjoy it more without umbrella. While, on the other hand, the summer umbrella trend is very high as people love to carry with them something that saves them from the scathing heat of sun when the mercury rises above 45°C and protect them from heat strokes and sunburns.
To follow the umbrella trend in Pakistan, you do not need to invest a lot for buying a good umbrella. Normally the prices start from Rs. 80 and goes to Rs. 2200 for regular sized umbrellas. For the summer umbrella trend, mostly girls are the major buyers of umbrellas and particularly those who go to college and universities. They prefer folding umbrellas as they are very handy and easy to carry in a handbag without taking a lot of space.
Umbrellas for summer umbrella trend can be bought from regular departmental stores,  gift and toy shops. Also, if you want a very trendy and a bit expensive umbrella then high street fashion stores is the place to shop for umbrella trend in Pakistan. Shopping stores such as Accessorize, Essentials, Alfateh, Next and many more are places where beautiful and trendy umbrellas can be found in a lot of perfect designs and pretty patterns, ideal for the umbrella trend in Pakistan.
Girls normally prefer bright colors and designs for their umbrellas. Polka dots, stripes, animal prints, cartoons, graffiti and much more can easily be seen for umbrella trend in Pakistan. Moreover, the pretty frill edgings, cute charms and tassels at the edges of the umbrellas make them look even prettier for summer. But as the sun is at its peak and it's too hot, therefore, to beat the heat, darker colors are selected. Black and dark green is the most suitable for summer and gives ideal protection from sun.
After knowing so much about the popularity of umbrella trend in Pakistan, you must be dying to grab your own cute umbrella from the nearest store too. So, just decide your budget and get a perfect umbrella to catch up with the latest summer umbrella trend.