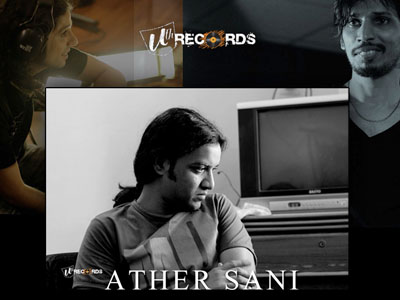 Following four musically diverse episodes and a repeat telecast of Yasir and Jawad's episode based on exceptional popular demand, Ufone's music platform Uth Records returns this week with their fifth and second last featuring artist on 25th March 2011, Karachi based singer Ather Sani.
Through Ufone's Uth Records televised platform and as illustrated by its artists Jumbo Jutt, Yasir & Jawad, Usman Riaz and Natasha Ejaz, the team has endeavoured to show how talented young musicians can thrive in a professional music environment where one of their original compositions is refined in a specialized recording studio with some of Pakistan's most gifted musicians.With episode five, Ufone's Uth Records brings Ather Sani out of the shadows and into the limelight with his soft pop song, 'Jaane Kyun'. Primarily a self taught musician, he is equally comfortable in the genres of rock and pop as he is with folk and ghazal; Ather Sani brings to the Uth Records platform his passion for music.
Speaking about their work with Ather Sani, Uth Records producers Gumby and Omran Shafique of LJP Studios have said "Ather Sani, has to be one of the most deserving singers out there… This guy has serious versatility, passion and focus. The song he came with is very catchy commercial with elements of what we call filmi music. We see Ather going a long way ahead and becoming the next big playback singer of the Pakistan music and film industry."
Khurram Leghari – Senior Executive Brand Activation at Ufone has said "Ather encapsulates the very spirit of a young and passionate Pakistani. He is dedicated to his music, always working hard for his talent and his responsibility towards his family through his career in music. We are proud to have Ather Sani shine at Uth Records.
Directed by Zeeshan Parwez, Ufone's fourth episode of Uth Records will be airing on ARY Digital, ARY Musik, HUM TV, Oxygene, TV One, PTV Home, Dawn, ATV and G Kaboom starting 25th March.
Look forward to a new artist and a brand new episode next week!