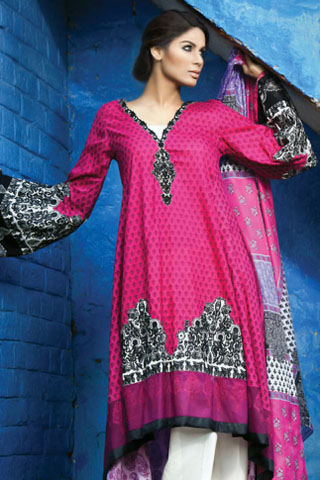 Summer Lawn is comfortable and preferred by all. Beautiful trends and fashion makes it more popular.
Summer Lawn Collection being the ideal and light weight fabric that it is makes to be the ultimate choice for every one during extreme temperatures and in countries where long summers loom on the lives of people, it is definitely the most comfortable cloth to be worn.
The blazing summer heat with all its splendors brings the overwhelming collections of Lawn prints by all leading fashion houses pouring out in every other shop, which boasts of selling the finest fabrics in the country. Roads are adorned with magnificent hoardings of super models both male and female, showing off the trendy prints caught by one's eye as you stop by the street lights. What a parade the Summer Lawn collections are especially for the designers club where each one is lined up to display his or her work to the masses.With the ever growing awareness in people and changing fashion trends this is one treat that everyone is looking forward to. The Summery and vibrant shades of yellows, pinks , peaches , reds , blues and greens are a reflection of nature's beautifulpalette . Especially in South Asian countries men and women prefer to wear dresses made out of Lawn in a variety of hues and prints. Pakistan is lucky enough to have the leading fashion houses manufacturing lawn collection ranging from beautiful floral designs to textured patterns, lighter shades to darker ones you name it and they have it all to satisfy your appetite for shopping.
Summer Lawn Collections however are not just limited to an Asian clientele , with the ever changing trends in the global fashion arena the lawn fabric has reached even the western styles of dressing to a certain extent with kurtis being worn with a pair of Levis or just Colorfully designed women's clothing including casual dresses, blouses, kaftans, and flared trousers. Custom embroidered summer lawn prints with chiffon strolls or dupattas are also an essential part of the recent Lawn Collections that are a must buy for every woman's wardrobe.
The New Year 2011 too has a  lot to offer in terms of summer being just round the corner and the bazaars howling to catch customers for the goods that they have in store to attract a crowd of eager shoppers of the season . The Summer Collection 2011 brings undoubtedly the finest quality of fabric and exclusive designs together by all the Big names of the fashion industry like Yahsir Waheed, Maria B.,  Gul Ahmed, Al Karam & Warda's collection etc all diving into the same pool but the question that lingers in the  minds of the customers is if the pricing is done reasonably or is it considering the price hike in the yarn, getting even more expensive than the last year.