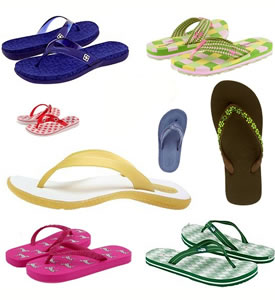 Flip-flops are a very common type of footwear. They are basically, a thin rubber sole with a two straps running in Y shape from the sides of the foot to join between the big toe and the adjacent toe. The footwear is colourful, meant for daily wear and also a part of formal occasions.
Popular flip-flops are not only limited to casual wear but they are something which can be worn in summers at homes, as a beach or outdoor wear. They are famous all over the world but are most famously called as Hawaii chappal in India and Pakistan.
These chappals are the cheapest footwear available in Pakistan and their price ranges from Rupees 100 and above. Their low cost make them widely used in these countries as common footwear instead of a fashion slippers. Street vendors will repair these flip flops for a small fee.
These flip flops are being treated as short lasting footwear. Depending on the material like, rubber, leather or plastic, these flip flops can last for a year or less. Since, they are inexpensive most people don't bother about repairing them as they can easily be replaced.
Their openness and comfort level make them an interesting wear, this footwear allow the foot to be out in the open constitute a shoe for wear in places such as restaurants or on a city street, and can be quickly and easily removed.
Flip flops are easy to carry and come in an assortment of colours and patterns. Chappals are something worn by men and women of all ages. It is a sanitary footwear in communal showers, where wearing flip-flops slows the spread of fungal infections. From soldiers to trampers or hikers flip-flops or a pair of flip-flop make it a lightweight emergency replacement for damaged boots.
Latest flip-flops shoe trends can be worn anywhere anytime as long as you are just loaming out on the park or taking a stroll down the streets shopping but not in the very important events such as business trips requiring high-rate decency. Fashion experts feel that you should also be careful which places you need to avoid wearing flip-flops such as outside the office gatherings like mentioned earlier. Also generally, such other places as the church, red carpet occasions, funerals, some dates, and so on are not fit for these shoe trends.
When it comes to fashion, flip flop trend of 2010 among women are black and white. Coloured flip flops seem to be out of fashion this season. Gold, silver and jewelled flip flops are still very popular. The flip-flops will look gorgeous if worn with a pair of latest jeans that is trendy, casual miniskirts and dresses and shorts.
For men, choice in flip flops is so much better and more or less worn for personal occasions. If you are trendy, you do not need a fashion advisor to tell you where not to wear your chappals but it flows naturally.