Pakistani Fashion Industry is tremendously heading towards success in the world of style and fashion. In Pakistani Fashion Industry too, Fashion is not only meant for females but men's fashion apparel is also gaining importance equally. There are many renowned Fashion designers, working only for men's grooming.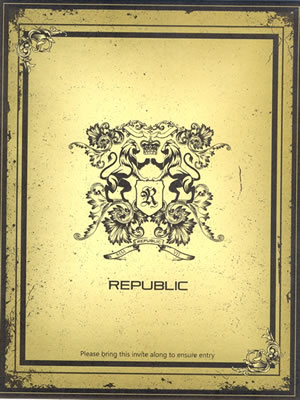 Fashion brand Republic is one the emerging & remarkable Fashion brands in the Pakistani Fashion Industry. Fashion brand Republic is one of its kind bespoke and retail fashion experience for men. Now Fashion brand Republic is going to launch its Fashion assortment at the display centre in Gulberg, Lahore. Omar Farooq is the name behind the Fashion brand Republic. Omar Farooq is successfully running the brand as the Creative Director and founder of the Fashion brand Republic. Omar Farooq is a brilliant Fashion designer and has acknowledged a proper learning about the Fashion designing; he has been entangled in a love affair with Fashion designing since 1994. His first walk down Rue du Faubourg Saint-Honore, one of the most fashionable streets in the world carrying major global fashion houses such as Dior Homme, Dolce & Gabbana, Gianfranco Ferre, Gianni Versace, Gucci, Comme des Garcons and YSL, sparked in him the seeds of curiosity about designing wear.
With an eye for excellence, Fashion designer Omar Farooq has been consumed by the technique and artisanship of designer wear. Omar Farooq soon became part of a fraternity of designers concerned with achieving the highest level of quality in the creation of fine clothing. With years of research and travel to the remotest parts of Italy, apprenticeships with Italian Pattern makers such as Marco Zengarini, Omar Farooq has learnt the trade's ins and outs, secreted textile mills and acquired the skills involved in master craftsmanship of fine designer wear.
Now the innovative direction of Fashion designer Omar Farooq brings to you not just this season's latest fashion, but collector items made only from the finest ingredients. The materials are purchased from the top five mills in the world bringing to Pakistan a luxury line of clothing like never before via Republic Black Label. Fashion brand Republic is offering 2 ply & 3 ply cotton shirts exclusively available at Lahore's store. The 100% pure wool suiting line is also there, in regular, slim fit and Business cut.
Besides suits & shirts, clothing line, the winter 2009/2010 collection of the Fashion brand Republic includes shoes, eye-wear, outer wear, leather and other fashion accessories.
So come and explore Republic; the new world of style and fashion, by Fashion designer Omar Farooq.