(Lahore, 25 September 2009) After the success of two Coke Studio seasons and in the interests of further promoting a sense of Unity and Pride, the Coke Studio music platform extend their financial support to the retail community through the United Brands For Pakistan [UBP].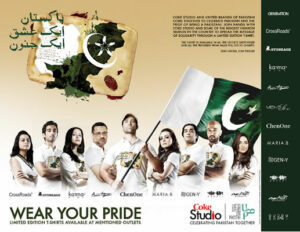 Speaking about the introduction of UBP, Country manager the Coca-Cola Export Company, Rizwan U Khan has said "Coke Studio's very ethos rests on the principles of unity, equality, solidarity and pride. It has struck a chord with Pakistani's youth who believe in its cause and in its spirit. We want to promote a vibrant and healthy nation through its youth and if this can be achieved through promoting a new initiative such as UBP and consequently an all encompassing Coke Studio platform, we are there."
Led by Fashion Designer Maria Butt, UBP is looking to bring contemporary Pakistani fashion brands and retailers on a united platform in an endeavour to give back more to Pakistan. Indeed this is the first time that the country will witness unity between such powerhouse brands, including: Amir Adnan, Chen One, CrossRoads, Generation, Guddu and Shani, Karma Pink, Maria B, Men's Store, Gen-Y, Khaadi, Fnk Asia and Stoneage. Within this show of strength and in a bid to spread the message of solidarity, the United Brands for Pakistan launch themselves with a line of patriotic T Shirts which will retail across Pakistan and outlets of all the aforementioned brands the proceeds of which will be given towards the rehabilitation and repatriation of Pakistan's Internally Displaced People.
Rohail Hyatt commented 'By supporting UBP, Coke Studio cherishes the wonderful opportunity to give back some of the love and affection it has received from the people of Pakistan. This project stands for the unity of Pakistan and this is adequately represented by the two different art forms, fashion and music, coming together to support a greater cause. The fact that the needy people in our country will benefit from the proceeds of the sales, certainly strikes the right chord with the values we try to pursue at Coke Studio. I wish the project and it's founder, Maria Butt, all the success and good wishes on behalf of the Coke Studio team.'
Founder United Brands For Pakistan, Maria Butt has said "I wanted to inspire the youth, to be patriotic is desirable. I wanted to be able to say that facets and industries like Fashion and Music stands united for the love of Pakistan. However, one brand or person was not strong enough to make the kind of impact I wanted which is why I approached the biggest, trendiest brands in Pakistan who reach out to millions of people on a daily basis. Coke Studio itself is a label associated with supporting talent and instilling a sense of pride and unity in our youth. Together we believe that we can be so much more than the sum of our parts"
With Coke Studio's support, United Brands For Pakistan look to introduce a diversity of concepts and ideas in the future that inspire Pakistan's future generations. Their T shirt line is currently available for retail across Pakistan at PKR 550 for their Men's T-shirt, PKR 750 for their Men's polo tee, PKR 950 for their Women's T-shirt and PKR 950 for their Women's long tunic.