Interior designing trends are on the verge of constant changes. This reflects the interesting shifts of the creative minds which help us in exercising our imaginative skills in a more immaculate manner to acquire the perfect look we want.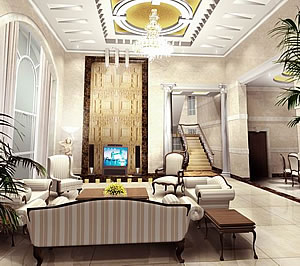 Before the 90's era – the lavish period – highly sophisticated designs and grandiose patterns were preferred for drapes, carpets and even the decoration items in the upholstery. More and more velvet was incorporated with golden trimmings and matching lush carpets, giving an exaggerated lifestyle. The rooms were decorated with crystal ware, floor lamps and huge chandeliers, while flowery printed carpets were the top choice.
With the onset on 90', these trends were given back seat and came along the modern convenient ways of lifestyle with less embellishment and more grace.  Carpeting was reduced and the idea of marble flooring and tiles triggered attention, while small rugs or runners neatly decorated the room. Abstract art was seen as a major element in interior designs. Designers started experimenting with colors such as fuchsia, canary and lime, while patterns which abstract, geometric of pin-stripped were in. it became more obvious to add color – preferring brighter ones – to fill the ambiance with a lively appeal.
After the year 2000, a more refined, simplied and minimalist look came to inception, focusing on giving each room a more distinguishing makeup. Curtain styles modified greatly. Double layers with sheers at the back came in style. Less furniture – compact and elegant – glass top tables, textured paint and wooden and tiled flooring became the people's choice.
Today, it is all about giving a unique outlook to everything, which reflects an individual style. The following home decoration tips can help you look your home a place of style and poise:
Kitchen
For decorating your kitchen, use more steel color, granite tops, tiled flooring, round washbasins, spot lights, hanging light on the centre counter.
Living room
Prefer to choose wooden or marble flooring for dining room, no centre table, bright lamps, and decided to go for cotton upholstery with brilliantly colored cushions.
Bedroom
Your bedroom too should concentrate on more chic but compact furniture, wooden or marble flooring, low bed, double layered curtains and walk-in closets with glass sliding doors.
Drawing room
Drawing rooms look more appealing if decorated with more leather furniture, brightly colored cushions with zarri and jamawaar pattern work on it. Place in door plants in the corner to a refreshing look. Make use of more earthier miscellany tones such as mustard, chocolate brown, plush green, pale orange and yellow.